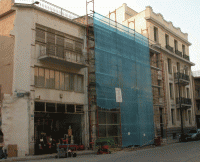 General Overview
Description of the renovation and its purpose
The purpose of the project is to renovate the building and turn it into an ecological library devoted to demonstration, education, and dissemination of low energy and environment friendly technologies in building construction and renovation. This will include traditional and modern techniques of energy and water conservation, ecological building materials, renewable energy systems and recycling of water, paper etc. The location of the building close to the central archaeological spaces in Athens which are being united and enhanced by pedestrian roads, makes it ideal for this use.
Status up to today
The project is in construction phase, due to be completed by the end of April, 2007. Monitoring is scheduled to last for one year starting May 2007.

External insulation and replastering of walls and reconstruction and insulation of all parts of the roof is also underway. Windows reconstruction including low-e double glazing and night insulation will be installed to replace old ones as soon as external "gros-oeuvre" work is completed, so that the whole building is tightly sealed by the end of February 2007.
Shading, day lighting, and natural ventilation systems will be integrated to the building structure in the beginning of March 2007.

All other systems to be integrated to the building (pv cells, solar collectors, shading systems) as well as electrical and mechanical systems and BEMS are already purchased by our sponsors following market research by our team, in order to select the systems best suited to the building.