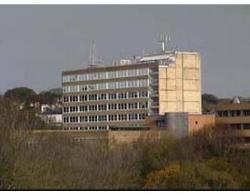 General Overview
Full monitoring of turbine performance completed end February 2008.

Design of demonstration project completed together with both the BRITA Design Report and BRITA Information Tool. Wind Turbines installed October 2005.


The main scheme came up to tender stage but was stopped. Wind turbines were installed but performance turnes out to be poor.

Description of the renovation and its purpose
The building was erected in 1972 using a simple non-insulated cavity wall construction and single glazed windows, all of which results in a very low insulation value. The external façades, as with many buildings of its type and age, are now in a poor state of repair, and suffer particularly because of their close proximity and exposure to the South West UK coast line, with its prevailing weather conditions. The planned renovation encompasses the external re-cladding and the internal refurbishment of this 8 storey building.
Status up to today
The Plymoth College for Further Education (PCFE) has a new name effective from January 2007: City College Plymouth.

Building information tool provided and needs redrafting to fit the standard format. (December 2006)

Main scheme cancelled. Letter issued to coordinator on 3 February 2006

The main project to refurbish the Tower Block was cancelled just prior to going to tender. Wind Turbines installed end of October 2005.


Design team making very good progress. Occupiers questionnaire drafted for issue January (December 2005)

Funding delay means construction phase to start 1 June 2006 complete 31 March 2007 (September 2005)

Aiming for construction phase to start 1/4/06

Meeting with LSC to clarify lack of progress with Property Strategy. LSC now confirmed happy to accept strategy mainly involving refurbishment. This will enable good progress in January 2005.