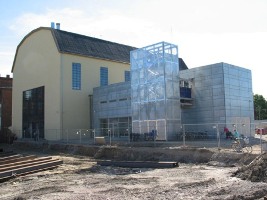 Design
Building
Proevehallen had not been used for a number of years. It was an empty hall with only a ground floor in spite of a height of 18 m. Because of its original purpose it had been built as a minimal construc¬tion with no insulation in walls and windows and simple single glass metal frame windows. In the renovation process 2 new floors had to be fitted in, and insulation and new windows had to be installed. The building had been unheated and ventilated solely by the port opening and the windows, so also complete heating and ventilation systems had to be designed and installed. As there was not energy consumption before retrofit to compare to the energy saving design had to compare to the existing requirements in the Danish building regulations and estimate the savings compared to a building renovated to these requirements. Complying with the requirements in the building regulations was not a requirement for the renovation as it was valid only for new buildings. There was no existing drawings available for the project.

Proevehallen is designed to be a low-energy cultural and sports centre. The earlier one-story building with the height of five is now turned into a three-storey building with a gross area of 2300 m2 from The net floor area of the renovated building is now 2300 m².

Plants
Due to the low-energy aspect different technical solutions has been installed. This imply energy from PV-plants, heat recovery and PV-T solar cells which is cooled and thereby also delivers heat to the building. At the same time the efficiency of the PV-cells rises as the temperature drops. Furthermore ventilations systems have been installed, on the lower storeys as balanced mechanical ventilation and in the upper sports hall as natural ventilation controlled by CO2 and temperature sensors. The whole building is being controlled and monitored by an BEMS system.
BEMS
The BEMS system has been designed. It will be a LON-based system, connected to the Internet, allowing in principle any PC (with username / password) access to the data.